Champion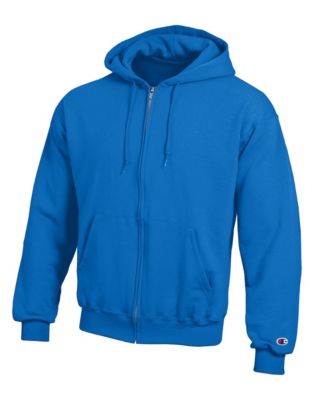 Rated
4.1765
/5 based on
17
customer reviews
S800 45 DH
S800 45 RB
S800 45 HL
S800 45 N2
S800 45 BK
S800 45 14
S800 45 MR
S800 45 NY
S800 45 SK
S800 45 LW
S800 45 RH
S800 46 DH
S800 46 RB
S800 46 HL
S800 46 N2
S800 46 14
S800 46 MR
S800 46 NY
S800 46 SK
S800 46 LW
S800 46 RH
S800 43 RB
S800 43 BK
S800 43 MR
S800 43 SK
S800 43 LW
S800 43 S9
S800 42 RB
S800 42 HL
S800 42 BK
S800 42 MR
S800 42 NY
S800 42 SK
S800 42 LW
S800 41 DH
S800 41 RB
S800 41 HL
S800 41 N2
S800 41 14
S800 41 MR
S800 41 SK
S800 41 LW
S800 41 RH
S800 41 UA
S800 44 RB
S800 44 BK
S800 44 14
S800 44 MR
S800 44 SK
S800 44 LW
S800 44 RH
Essential Champion full-zip hoodie is easy on you and on the planet. The plush, eco-friendly fleece wicks away sweat.
Soft and substantial 9 oz. cotton-blend fleece.
Double Dry® technology wicks moisture away from the body and helps control moisture buildup.
Center front full zip.
Two-ply hood with matching drawcord.
Front pouch pockets with bartacks for durability.
Rib-knit waistband and cuffs.
Durable cover-stitching throughout.
Champion Eco® fleece contains up to 10% recycled polyester fibers from plastic bottles.
C logo on left sleeve.
+ More Details
Imported
50% Cotton/ 50% Polyester